I can't express my disappointment I experienced this Friday when previewing the movie listings in the Friday Atlanta Journal Constitution. (Yes, I still prefer to look at the movie listings in the Friday paper, rather than browsing online. When you have the entire smorgasbord of options in front of you and you can see the entire landscape, some things stand out.)
My disappointment stemmed from the location where the new film
I.O.U.S.A.
opened in Atlanta: the
Regal Cinemas Hollywood 24
.

Roadside Attractions
decision to open a specialty documentary film at a suburban multi-plex is paramount to sending a prisoner to Siberia. In fairness, for the masses headed home to their suburban gated communities north of Atlanta, bypassing the Hollywood 24 on the shoulder of 85, the film will be a roadside Attraction.
When opening a specialty film theatrcially, location is one of the most significant factors for success, along with marketing, timing, and critical review. (The quality of the film is often secondary--I've seen countless great films--like
Mondovino
--tank at the box office, while mediocre films--like
Bottle Schlock
--catch on.
We've seen this elsewhere this summer:
Danny McBride's
Foot Fist Way
opened on a single screen in the Atlanta market--way the hell out in Stonecrest, in a multiplex over 40 minutes from Atlanta proper. Paramount Vantage held the theatrical release of this film for like 2 years...and then dumped it in the suburbs, over a month and a half before Danny McBride was positioned to break big.
Meanwhile, now that we're headed into September, Danny McBride's stock has risen! He's featured in two of this summer's hottest comedies: Tropic Thunder and Pineapple Express, and audiences are likely asking themselves, where can I see more of his work? Had Paramount Vantage held the release a few more months, they might have been positioned for a legitimate sleeper hit. Heck, had Paramount Vantage employed better strategy, the company itself might have survived...
Dan's been brave enough to see such specialty films as
Midnight Meat Train
and Uwe Boll's
Postal
upon their theatricial openings in banjo-strumming locales like Fayetteville and Riverdale.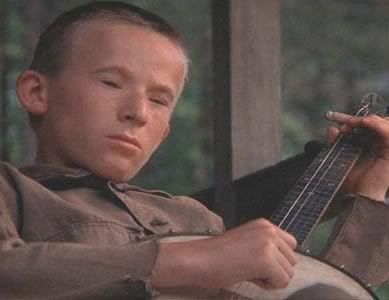 The state of independent releasing is precarious. Small films need every possible advantage to succeed in a crowded, competitive marketplace.
When a distributor decides to open a film in Siberia, they doom the picture to failure.
There are reasons distributors dump a film:
1)
From a desk in New York, one screen is as good as another.
Getting the film on-screen is the thing. More often than not, such decisions show a distributor's ignorance about a specific market. But this is simply not true. All screens are not equal. Audiences are creatures of habit--and art house audiences have come to expect art house films at specific venues. The only time specialty films can perform in an unconventional screen is when the film crosses a tipping point and expands wide (Juno, March of the Penguins...etc) or when a film (like Passion of the Christ, the Tyler Perry canon) is positioned to reach a critical mass outside the art house hub.
2)
They really don't care:
Why would a distributor would choose to dump a film on purpose? They are contractually obligated to open the film on a certain number of screens, and by opening (in Siberia) they are honoring their obligation.
3)
There just isn't any room on the desirable screens:
In Atlanta, the Landmark Theatre is holding "art films" like Dark Knight, Mamma Mia!, Pineapple Express and Tropic Thunder (I get it, they have to pay the bills, too!), and meanwhile, the UA Tara is holding tight to legit powerhouse art product, and doing quite well. I wonder why more companies, when they get squeezed by corporate theatres like Regal, UA and Landmark don't cozy up to independent theatres like
The Plaza
and
Lefont
? Seems to me these theatres are the last frontier for true indies.
I.O.U.S.A has been employing an aggressive and interesting marketing strategy. I've encountered the film numerous times on Google ads. They created a national opening event by staging a national town hall meeting (projected on digital screens throughout the country) with Warren Buffett, CEO of Berkshire Hathaway; William Niskanen, chairman of the CATO Institute; Bill Novelli, CEO of AARP; Pete Peterson, senior chairman of The Blackstone Group and chairman of the Peter G. Peterson Foundation; and Dave Walker, president & CEO of the Peter G. Peterson Foundation and former U.S. Comptroller General. But based on their list of
theatrical venues
, it looks to me like they've misplayed their hand.
All I know is this: a group of 5 interested film lovers--the film festival staff--opted to see Housebunny on Friday, instead of I.O.U.S.A.
I'm sure we'll see the film eventually--
as soon at it's available on Netflix
.